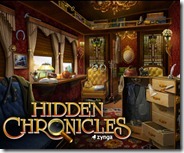 Today Zynga launched a new game called Hidden Chronicles.
Hidden Chronicles is a "hidden object" game in which you search for all the objects hidden within an illustration presented on the game screen (like the one to the right). It also has mini-games and puzzles.
You can read more details in this VentureBeat article.
You can try Hidden Chronicles here
Enjoy!