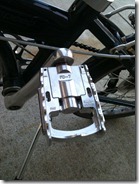 My Dahon-D7 originally came with the standard Suntour folding pedals.
One of them went bad on me recently. The pedal was making crunching noises and wasn't rotating properly – not good! Apparently a ball bearing crumbled.
Reading online reviews, it seems others have had this problem, too.
I decided to replace them with another pair of folding pedals. I use the bike almost exclusively for commuting to work. When folding the bike up for the train, I don't normally need to fold the pedals. But the folding pedals do come in handy on rare occasions when I put the bike in the trunk of my car.
I chose a pair of MKS FD-7 pedals for the swap (pictured to the above right). These are an upgrade both in terms of durability and grip. The serrated edge prevents my tennis shoes from slipping much better than the rubber on the Suntour pedals.
These apparently come in black finish in addition to silver. In retrospect, the chrome pedals make the bike look a little bit pimped-out.