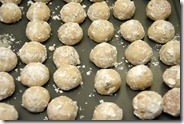 These round cookies are a family holiday tradition. They are fairly easy to make, and not overly sweet. Like potato chips, it's hard to eat just one.
This recipe yields about 50 cookies.
Ingredients
1 cup butter, softened at room temperature
1/2 cup powdered sugar (plus more later to roll the cookies in, see directions below)
2 1/4 cup flour
1 teaspoon vanilla
3/4 cup chopped nuts (for example, small walnut pieces)
Directions
Mix butter & powdered sugar well
Mix in vanilla, flour and nuts
Chill in refrigerator for several hours
Shape into balls about 1 inch across (see picture to right)
Bake at 400 degrees for about 11 minutes
Roll in powdered sugar while warm. For this I use a small baking pan filled with sugar (see picture to right)
Once cool, roll again in powdered sugar
Once fully cool, they are ready to eat.
Enjoy!