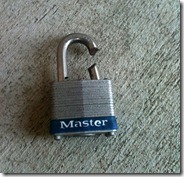 There should be a Dahon "Frequent Buyers' Club."  I'd be a member, somewhat reluctantly.
Due to some unwise choices parking my bicycles outside, I've had two stolen in the past 18 months.  As a result, I'm on my 3rd Dahon Speed D7 in as much time (so far I've owned one 2010 model and two from 2011).
I've been happy overall with the Speed D7 from a price / value point of view.  Each time I've looked over other models (and considered their likelihood of being stolen!).  Some of the lighter, more expensive models are intriguing, but I've settled back on the D7 again.  After all, I'm mostly using to commute short distances.
I mail ordered the 2010 model from SafetyCycle, which was an easy enough experience.  On arrival the bike required some minor tuning to the rear derailleur – nothing surprising.
I purchased the two 2011 models from REI, because they were in stock, and following the thefts I was pressed for time to obtain a replacement.  After the member refund, the price isn't that much different from a mail order.
The 2nd model I purchased (now stolen) was the smoothest so far – no significant adjustments needed.  The most recent D7 had a problem with the cassette.  The rear derailleur was properly adjusted, but the 7th gear kept skipping.  REI replaced it the first week under warranty.
(And yes, I have since purchased a better lock)