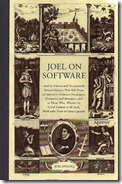 After a bit of a delay, I've got another book to recommend.
Joel Spolsky has kept a popular blog in the past decade, archived on his web site and in several books including Joel On Software.
Joel borrows ideas from sources like Peopleware and Mythical Man Month, as well as his experiences developing software for several companies including his own. He's a thought-provoking and entertaining writer, making him an easy and worthwhile read.
A Few Sections
I have a few sections to recommend, if you're short on time
Guerilla Interviewing
Painless Functional Specifications
Painless Software Schedules
Get Crash Reports From Users – Automatically!
Human Task Switches Considered Harmful
Getting Things Done When You're Only A Grunt
But the book is sprinkled with gems.
Summary
A few caveats. I don't always agree with Joel, but generally find his writing worth reading. As with the other books I've mentioned, there is some dated material (ten years later, dot com references are sounding somewhat quaint to me). Last, there's quite a bit of material focused on Microsoft technologies – a reflection of Joel's background.
Highly recommended.