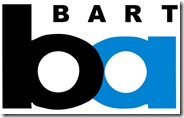 In January 2010 I accepted a job in San Francisco (with Zynga, the company that brings you FarmVille and other fun games).  Although I've lived in or near large cities for most of my life, I find myself commuting downtown for the first time (via BART).
Zynga is about 1.1 miles from the 16th & Mission stop in San Francisco, about a 20 minute walk, and I spend about an hour on the subway each way.  Before I accepted the job, I wanted to make sure I could
Bike comfortably to/from the BART station, to speed up the commute
Get 3G wireless service during the commute
A few dry runs proved that 3G service was reasonably reliable (an early dead zone at the Lake Merritt station was rectified in the past few months).  This allows me to get nearly an hour of work in each way during my morning and evening commutes.
The traffic along 16th Street between Mission and Potrero Hill isn't terribly busy in the morning, so I decided a bicycle commute would be possible.  This cuts the 20 minute walk down to a 7 minute bike ride.
What I ended up with to make this all possible was
More on those soon.
(Thanks for reading – Steve Klinkner)