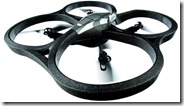 A colleague at Zynga recently brought in his new AR Drone – I now have Christmas Present Envy. AR Done is a product of Parrot.
Videos
Although I don't (yet) own one, I've had my eye on these for a while. The Drone seems like a candidate for the top geek toy of 2010. You can view some videos on their web site, or YouTube.
What's Cool
I think what's cool about the the AR Drone is its integration of several innovations
It has feedback systems (accelerometer, gyroscope, ultrasound, video) allowing it to be self-stabilizing. Turn it on, and it rises up several feet, and (eerily) just sits there, like a bumblebee.
It's WIFI-enabled, enabling it to be controlled from an iPhone app.
WIFI capability allows it to stream video back to the phone.
The combination works together nicely.
Good fun.
(Thanks for reading – Steve Klinkner)