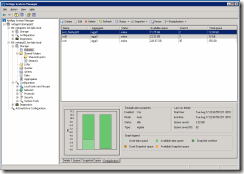 One of my major assignments at NetApp involved leading an effort to overhaul the administrative software for the company's storage controllers – resulting in the NetApp System Manager product.
System Manager was recently back in the news in a positive light, featured in this InfoWorld article on data deduplication appliances.
It seems System Manager helped tip the balance in favor of NetApp against the products from FalconStor and Spectra Logic. I'm happy to see that, since System Manager explicitly renewed focus on simplicity and integration with Windows, making it easier to use NetApp's entry-level platforms.
Some excerpts from the article:
IT has two options for managing the FAS2040: Web browser and the stand-alone management console, the NetApp System Manager. While the browser-based management portal was straightforward, I found System Manager much more user-friendly and intuitive, even more so than FalconStor's UI. Both storage controllers were represented in the management utility with each major function broken into separate grouped tasks, making it very easy to locate specific items.

There are, however, useful graphs and data points, such as volume details and space saved, scattered throughout System Manager. NetApp did a good job of organizing System Manager so that the amount of information presented in it is applicable and useful, without going overboard and inundating you with too much data.
Nice work from the System Manager team!
(Thanks for reading – Steve Klinkner)