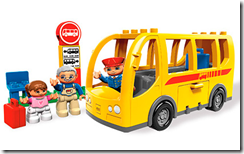 We recently got this Duplo Bus for my son, which seems to feature (at least in terms of Duplo characters) a bus driver, grandfather and granddaughter ("grandfather" and "girl" in the product description).
About a week later, my son decided to involve the granddaughter in a plumbing experiment from which she did not recover (oh my).
I thought it would be nice to replace the poor lost-at-sea granddaughter.
I searched on EBay and found what appeared to be a replacement granddaughter for fairly cheap. I purchased it, and it arrived the other day.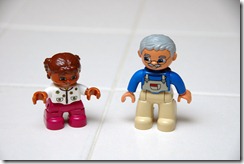 Prior to the arrival of the new granddaughter, I had given no thought to the racial backgrounds of the characters (they appear to be European).
I observed with some amusement that the new granddaughter had a skin tone several shades darker than the one lost-at-sea (in any case somewhat darker than Grandpa). Perhaps we have spawned a multi-racial Duplo family?
I am now curious to meet the granddaughter's parents.
(Thanks for reading – Steve Klinkner)